Why Tear Off When You can Restore?
SMARTCOAT™ - CertainTeed's Comprehensive Line of Low-Slope Roof Restoration Products
Liquid-applied roof restoration is the fastest growing segment of low-slope roofing, and it's easy to see why. Designed for use over almost any preexisting substrate, CertainTeed's SMARTCOAT™ roof coating system can restore a roof to full service without the expense and waste of tearing off and replacement with factory-made membranes.
Smart, Sensible & Sustainable
There are many reasons roof restoration is the fastest growing segment in low-slope. SMARTCOAT™ silicone and acrylic coatings are direct-bond optimized formulations, eliminating the need for primer on many roofing substrates, and complemented by UV stable and high elasticity mastics and sealants. Don't waste dollars and resources by tearing off when you can restore.
SMARTCOAT™ Liquid-Applied Roof Restoration Products
SMARTCOAT™ silicone and acrylic roof restoration systems are an economical and sustainable solution to extend the life of existing roofs for decades.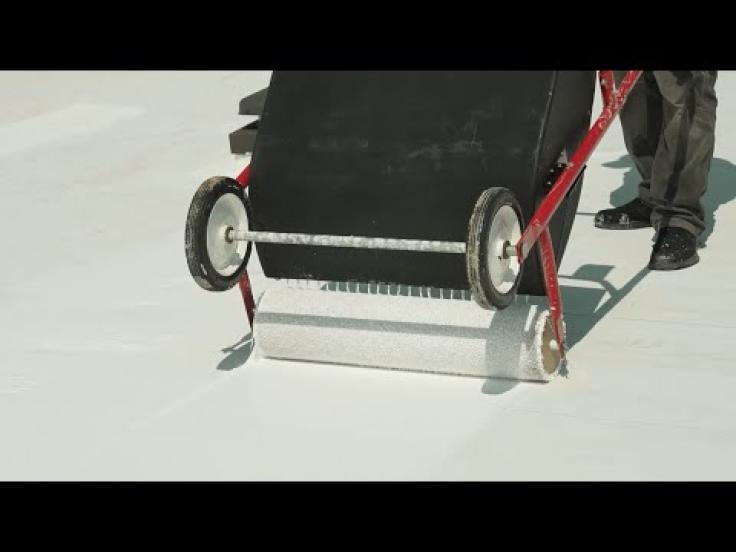 Warranty Information
CertainTeed offers a range of Limited Warranties for SMARTCOAT Acrylic or Silicone restoration projects, including 5 and 10 year extensions on CertainTeed Integrity roof system® Limited Warranties.
|   | When Restoring a non-CertainTeed roof: | When Restoring a non-CertainTeed roof: | When extending the life of a CertainTeed roof: | When extending the life of a CertainTeed roof: |
| --- | --- | --- | --- | --- |
|   | SMARTCOAT™ Limited Warranty in Materials | SMARTCOAT™ No Dollar Limit (NDL) Limited Warranty | CertainTeed Integrity Roof System Limited Warranty, SMARTCOAT™ Extension | CertainTeed Integrity Roof System NDL Limited Warranty, SMARTCOAT™ Extension |
| Coating & Restoration Systems with: | 10-15-20 Years | 10-15-20 Years | 5-10-15-20 Years (new roofs) | 5-10-15-20 Years (new roofs) |
| Coverage | Warranty covers manufacturing defects in SMARTCOAT™ products only. | Warranty covers leaks caused by manufacturing defects in SMARTCOAT™ products and/or workmanship | Warranty covers leaks caused by manufacturing defects in a preexisting CertainTeed low-slope roof and SMARTCOAT™ products | Warranty covers leaks caused by manufacturing defects in a preexisting CertainTeed low-slope roof and SMARTCOAT™ products and/or workmanship |
| SMARTCOAT™ 400 High Performance Acrylic/405 Quick Set Acrylic  | All years covered | All years covered | All years covered | All years covered |
| SMARTCOAT™ 401 High Solids Acrylic | Only 10 years is covered | N/A | N/A | N/A |
| SMARTCOAT™ 450 High Solids Silicone | All years covered | All years covered | All years covered | All years covered |
| Prorated Coverage | Yes | No | Yes | No |
| Warranty Free | No | Yes | No | Yes |
| Contractor Requirement | None | Silver or Gold Star Credential & SMARTCOAT™ Approved Applicator | SMARTCOAT™ Approved Applicator | Silver or Gold Star Credential & SMARTCOAT™ Approved Applicator |